Introduction:
The latest Royal Mail price hike in October has impacted both businesses and individuals with steeper postage costs. However, there's a solution on the horizon. What if you could send a letter, inclusive of printing, envelope, and postage, at a cost lower than a traditional stamp? Enter Intelliprint, revolutionising the mailing landscape.
Price Comparison: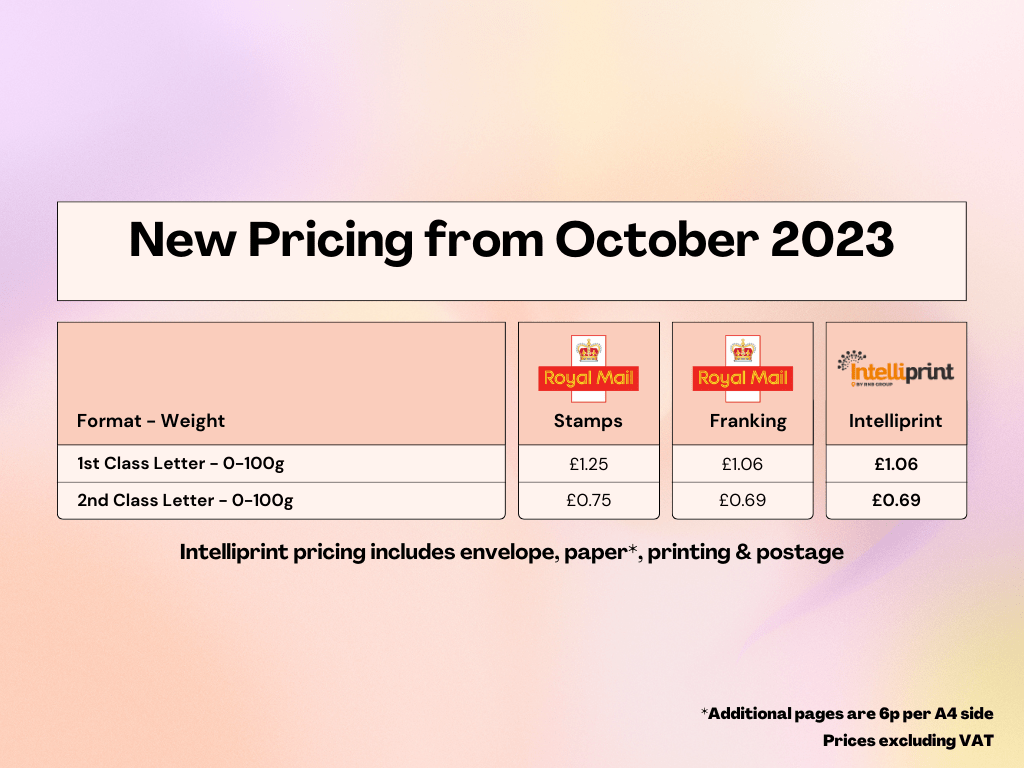 Understanding the October Price Hike:
The mailing community is buzzing with discussions about Royal Mail's October 2023 price announcement. For an in-depth look at the new pricing:
The Hidden Costs of Franking:
While franking seems cost-effective, it comes with its own set of hidden charges:
Franking machine contract
Franking machine ribbon/ink
Pre-payment of postage
Paper
Envelopes
Printer leases
Printer click charge
Mailroom equipment leases
Mailroom equipment consumables
Maintenance contracts
Mailroom Staff
Holidays/sickness
Office/production space
Electricity & heating
Discover the Intelliprint difference:
Intelliprint pricing includes the envelope and first printed A4 side, making the service cheaper than franking and taking the hassle out of getting your mail in the post.
Key Features:
Cost Efficiency: Send a letter (printing, envelope, and postage included) for a mere 62p, a standout offer in light of Royal Mail's price increase.
Seamless User Experience: From drag-and-drop to sync apps, Intelliprint has you covered.
Advanced Integration: With API capabilities, Intelliprint seamlessly integrates into your workflow.
Full-Service Mailing: Intelliprint manages everything from printing to posting, ensuring your mail is timely and professional.
Why Franking Machine Users Should Consider Intelliprint:
Franking machines, once a cost-saving option, have lost their edge with the recent price hikes and operational costs. Intelliprint emerges as an attractive alternative, blending competitive pricing with the ease of digital mailing.
Why Choose Intelliprint Amidst Price Hikes:
Exceptional Savings: Intelliprint's comprehensive pricing offers clear value against Royal Mail's price increase.
Operational Efficiency: Say goodbye to tedious manual tasks. Intelliprint brings automation and efficiency to mailing.
Future-Ready Mailing: As postal costs climb, Intelliprint becomes an even more attractive option, making it a sustainable choice for modern businesses.
Conclusion:
The Royal Mail's October price increase has undoubtedly shaken the mailing industry. Yet, with challenges come opportunities. Intelliprint emerges as a frontrunner, enabling businesses to thrive despite these shifts. Embrace this innovative solution to address your mailing needs in a cost-effective, streamlined, and impactful manner.
Join the Mailing Revolution:
Don't be constrained by the October price changes. Step into the future of mailing with Intelliprint today.